FISHING MIAMI BEACH
Capt. Ralph Mayans provides guided Miami Beach fishing and deap sea Miami fishing charters. Miami deep sea fishing can be one of the most exciting fishing experiences you will ever have. Capt. Ralph offers a variety of fishing trips to meet your fishing needs. Miami is well known for it's excellent offshore fishing action. It's artificial and natural reefs hold snapper, kingfish, grouper, barracuda, sharks and many more reef dwelling species. Just two and a half miles offshore is the world famous gulf stream current providing sailfish, swordfish, dolphin (mahi-mahi), tuna, blue marlin and wahoo. All these species are real fun to catch and give you that adrenaline rush you are looking for when you go offshore fishing. While fishing with Capt. Ralph, you can fish the reefs, wrecks or in the gulf stream, where there are fish everywhere. The warm tropical waters off Miami keep all these fish active year round. If the weather is a little rough, Capt. Ralph can still get you out on the inshore waters. He has the experience and knowledge to allow you and your guest to have an exciting and successful trip. He will always work hard on every fishing trip to accommodate you and all your guest, so that everyone aboard has a great time. Give Capt. Ralph a call to reserve or book your Miami Beach fishing trip!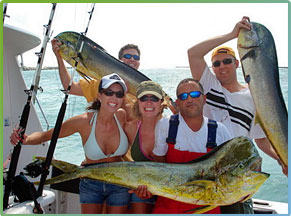 Miami Beach Fishing is known for its excellent offshore and deap sea action all year round. Miami deep sea fishing can be one of the finest fishing experiences of your life. The state of Florida is very well known for offering excellent fishing choices, but Miami Beach is considered as one of the best places to fish in the entire state. On most all chartered trips, you never leave site of the land. Most of the catches are made within a couple of miles from the shore. Miami Beach has great fishing waters which produce a large variety of offshore species including the favorites of tourist and saltwater anglers. There are plenty of fishing services in the region and many choices of fishing charter services to choose from. Rest assured that Capt. Ralph Mayans is the right choice for you. Capt. Ralph and his crew have over 25 years of chartering experience on these waters. Knowledge and experience is the most important factor when looking to book a charter. Being professional and courteous to everyone on board is also a trade mark of Ralph and his crew. Not only do you receive a fun filled fishing trip, you will also be treated like friends and family while on board. Capt. Ralph and his entire crew pride themselves on making your fishing experience as fun filled and exciting as possible with no worries! Just show up with your favorite drinks & snacks and they will take care of the rest including your fishing license, rod & reels, fishing tackle, bait, ice and your first mate. You will also need to dress appropriate for the weather conditions. (hat, sunglasses, tennis shoes, long sleeve shirt, etc.) Miami Beach makes for the perfect vacation destination, where you can enjoy the thrill of deep sea fishing by day and the excitement of the beach night life afterwards!

---
MIAMI FISHING CHARTERS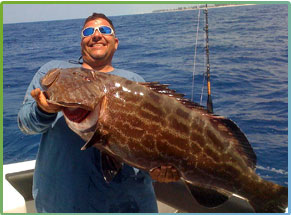 Most Miami Beach fishing charters are private guided trips. However Capt. Ralph's Deep Sea Miami Fishing Charters also offers a variety of other trips including split or shared charters, multi-boat charters, corporate charters & tournament charters. You will need to call Capt. Ralph if you have any interest in any of these types of outings. His fleet can accommodate half day, 3/4 or full day offshore charters for reef fishing, bottom fishing, drift fishing, kite fishing, night fishing and even long range weekend trips. He also provides Bahama Fishing Adventures. Capt. Ralph and his crew can take you fishing just about anywhere from the Miami Beach waters, the Florida Keys to the beautiful Bahamas. When your fish with Capt. Ralph you will be using the very best fishing equipment and tackle available. He will also show you techniques that will catch more fish. Best of all you will take your trip on the Sea Cross or the Sea Cross II, a pair of new air conditioned custom rigged Hatteras Sport fishing Yachts. Both of these boats have top of the line electronics, direct TV and all USCG approved safety equipment on board. Capt. Ralph's Miami Fishing Charter Service is conveniently located in the center of Miami and the Ft. Lauderdale Metropolitan area. His service is just minutes from downtown Miami located at the north end of the beach at the Bill Bird Marina in Haulover Park. It's time to call Capt. Ralph today to book or reserve your exciting Miami Beach fishing adventure!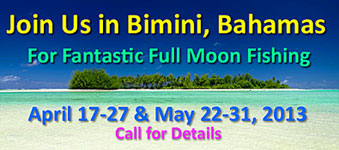 ---
THE BOATS
---
INFORMATION LINKS
---
Home I Trip Rates I Fishing Reports I Offshore Fishing I About Us I Contact Info


305-934-3801 • Miami Beach, Florida 33154 • www.fishingmiamibeach.com • © Capt. Ralph's Deep Sea Fishing Charters